I always faced difficulties in finding the right pair of shoes, mainly cuz I am a size 3/4. I used to shop a lot @ Charles & Keith until they raised their prices in an attempt to "up-market". As such, I shopped at Mondo and discovered that they sell shoes @ affordable prices. Thus, I will tend to buy the same pair of shoes (provided it's comfy enough) over and over ...
I first threw away this pair of shoes when it lived beyond its usefulness in LDN
Replaced it with an identical pair and had to throw away the 2nd pair in India
Thus, I went down to the shop again and got myself a brand new pair @ 20% off!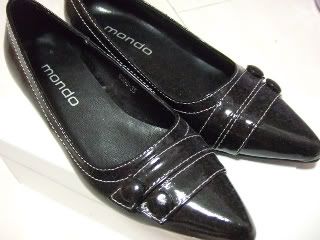 I wonder how long this new pair will last me .... ?